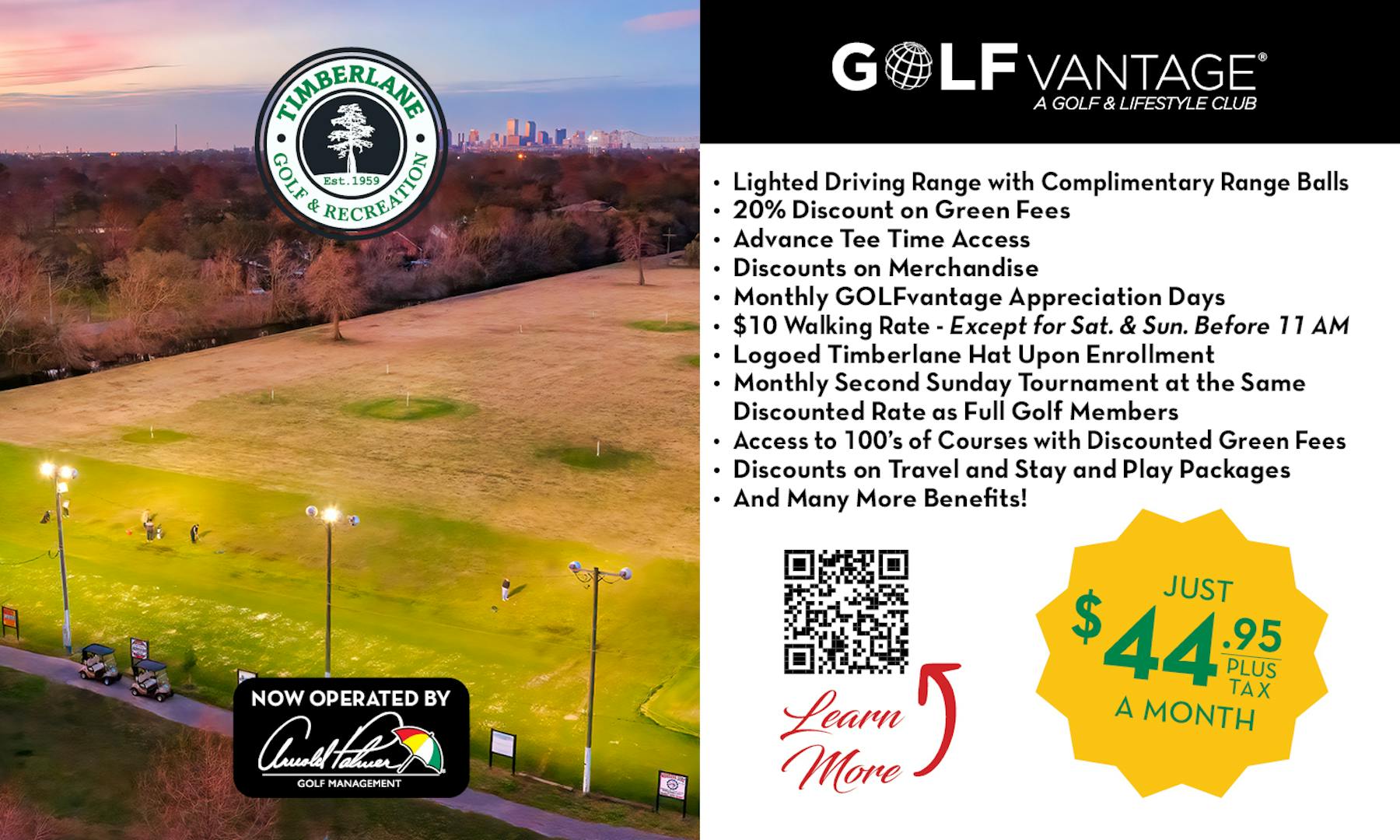 Get the most out of Timberlane with your GOLFvantage membership!
Complimentary Lighted Range Access
Unlimited Range Balls
20% Discount on Green Fees
Advance Tee Time Access
Discounts on Merchandise
Walking Access Daily for $10
Monthly GOLFvantage Appreciation Days
Logoed Timberlane Hat Upon Enrollment
Access to 100's of Courses with Discounted Green Fees
Discounts on Travel and Stay and Play Packages
And Many More Benefits!
LIFESTYLE | TRAVEL | GLOBAL GOLF
EARN $50 GOLFvantage CREDITS EVERY MONTH use credits for travel and more at GOLFvantage.com
CLUB CONCIERGE TRAVEL AND VACATION SERVICES with guaranteed best prices
GLOBAL GOLF BENEFITS at 100's of golf courses and resorts - complimentary greens fees - 10-50% off greens fees - and more!
EXCLUSIVE RESERVE SERIES invitations to member/guest golf days at prestigious clubs around the country
CUSTOM GOLF EVENTS create your own golf days for business or pleasure for up to 40 players
VIP TICKET PACKAGES to Golf's and Sport's best tournaments and events
SPECIAL SAVINGS on tickets and passes to shows, theme parks, and other attractions
STAY AND PLAY PACKAGES with exclusive savings
MEMBER-ONLY OFFERS FROM GOLFvantage partners
Pay for 12 months in advance, save 10%!